Harry Daghlian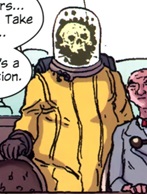 Characteristics
Unusual Features
Burning Skull
Status
Origin
Harry Daghlian had his body exposed to plutonium. He organs and tissues dissolved but in their place he gained an extended life. He has a half-life of 24,000 years.
Harry was placed in a prison to protect his radiation from affecting others. Enrico Fermi was the only person who visited him. He eventually rigged a machine for Daghlian to leave the solitary confinement and move about in his suit.[1]
Dr. Daghlian plugged Franklin D. Roosevelt (The Manhattan Projects) in a mainframe creating the world's first Artificial Intelligence.[2]
When his long-time friend, Enrico transformed into his true alien form and attempted to sabotage the project for expanding earth onto other planets, Daghlian killed Enrico with a radiation blast.[3]
Character Powers and Equipment
Powers and AbilitiesEdit
Powers
Unique Physiology: Harry Daghlian was exposed to dangerous levels of plutonium. Upon surviving, he keeps his body encased in a hazmat suit to protect others from his constant radioactive emission.[2]
Abilities
Appearances, Images, and Quotes Edit
This character is a fictional representation of Harry Daghlian, a real person. More information on this person can be found at Wikipedia.org.

ReferencesEdit
Community content is available under
CC-BY-SA
unless otherwise noted.