Helen Williams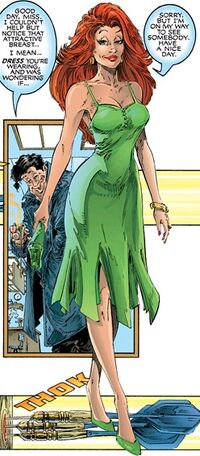 Characteristics
Status
Origin
Helen Williams is the red-headed bombshell of ordinary lieutenant Twitch Williams. Together they had seven children.
She visited her loving husband in the hospital after he was injured by John Sansker.[1]
Laster, Helen became frustrated with Twitch on his late-night and dangerous work schedule. While normally separated from his work, she found herself in the center when Billy Kincaid returned as a ghost. Spawn saved her from Billy's attack but any one related to Spawn and his supporting cast now came under fire by Billy.[2]
Twitch soon approached Helen and asked her to leave town for several days so that she and the kids would be safe. Helen was offended that her husband won't share his deepest secrets with her.[3]
Due to the amount of time Twitch was spending with Sam, Helen decided to leave him and take the kids with him.[4]
Sam later had a talk with Helen about talking to Twitch with his stress. Twitch was breaking down and needed his family back.[5]
Helen forgave Twitch and the two reunited after a long break.[6]
The separation still wore on the family and their son, Max Williams IV, ran away from home.[7] Helen worried about Max and called Twitch to have him investigate. The two lost Max to the Kingdom in a vampire purge. He no longer existed in the mortal realm but was not dead either.[8]
Character Powers and Equipment
Appearances, Images, and Quotes Edit
ReferencesEdit
Community content is available under
CC-BY-SA
unless otherwise noted.