Hellion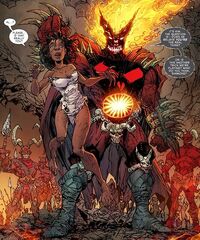 Characteristics
Origin
The Hellion was a demon who worked for Satan.
He was ordered to protect Wanda Blake as she was being used as a bargaining chip against Albert Simmons.[1] However, he lost control of her during a surprise attack by Spawn and was ordered to hunt her down and retrieve her.[2] However, Satan found Spawn and Wanda and was soon locked in battle with Spawn. While the battle enraged, Hellion left and tracked down a location where he saw Wanda frantically searching earlier. He discovered her unborn child, buried beneath some rubble. He picked up the child and returned to the battle. Satan now saw he had leverage and offered Spawn one final chance to give up his powers in exchange for a promise to let him, Wanda, and his unborn child live.[3]

Appearances, Images, and Quotes Edit
ReferencesEdit
Community content is available under
CC-BY-SA
unless otherwise noted.