Jaime Hettinga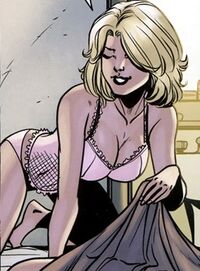 Characteristics
Status
Origin
Jaime Hettinga is a news reporter and married to Rick Hettinga, her camera man. However, she was secretly sleeping with her step-brother Justin Hine.
The Judas Crime
Wanting to receive her father's inheritance, Justin and Jaime created a plan to kill their father through over-medicating him and killing him. However, he came back to life as a Reviver but was stuck in a vegetative state.[1]
Threats Made
Justin called police when his Jaime and Rick had death threats made against them. Jaime had been covering stories on Revivers and perhaps others were getting jealous Justin postulated.[2]
Jaime continued to cover Reviver stories to expand her fame. She had poop thrown at her by a bystander and was called a, "whore." She needed to unwind and headed to Justin's house to sleep with him but found him eviscerated in his bed.[3]
Jaime gave her statement to police about Justin's death. When she returned to her car, she found another threat against her referring to Judas.[4]
When her husband, Rick, blew Anders Hine cover, he kidnapped Jaime and threatened to kill her. However, as his child he couldn't bring himself to do it and ultimately escaped leaving Jaime to be rescued by local authorities.[1]

Appearances, Images, and Quotes Edit
ReferencesEdit
Community content is available under
CC-BY-SA
unless otherwise noted.