Characteristics
Status
Origin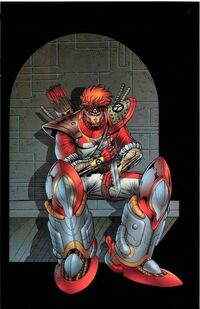 As a child Jeff Terrell was never without his trusty slingshot. Shooting at and hitting things was his greatest joy. After graduating college, Jeff Terrell joined the FBI where he became a decorated field agent. Terrell has extremely good aim, almost superhumanly good. He stated on his Myspace page that he use to hustle at darts during college to make beer money. He was raised Catholic, and is an Ares.
When the US government created the super hero team, Youngblood, Terrell was the field leader. He was also the only member to not have super powers. This made him feel insecure, but he tried to fight for the American Ideal with his super team. Shaft, his alter ego was outfitted with armor and gadgets and a high powered bow and arrows. He had many adventures with his team and fought super villains. The team became rich and famous, with marketing deals such as T-Shirt and lunchboxes. He even saved the world a time or two. The team later disbanded after the trial of Riptide's murderer.
Later, Terrell became the trainer and leader of a new Youngblood. These were teenagers who were financed by Waxey Doyle.
Character Powers and Equipment
Powers and AbilitiesEdit
Abilities
ParaphernaliaEdit
Weapons
Shaft carries a bow based on Katellan anti-gravity technology and specialty arrows.
Appearances, Images, and Quotes Edit
Quotations by or about Jeff Terrell
See also
ReferencesEdit