Rose Killer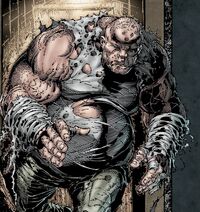 Current Alias
Rose Killer
Characteristics
Status
Origin
First appearance
Appearance of Death
Jeremiah Euden, better known as Sharpie, is a former heavyweight boxer with brain damage from repeated blows to the head.
Jeremiah was abused as a child by his father and he took out his anger on the opponents he faced in the ring. He killed his final challenger by beating him to a pulp in the ring, which earned him 4 years in Riker's, and a deeper psychological bloodlust for killing.[1]
When Sergeant Doug Halliday accidentally beat a woman he had attempted to rape half-to-death, he brought her to Jeremiah who had a long history of taking care of bodies for crooked officers.[1]
After prison, Sharpie became the serial killer known as the Rose Killer. He would kill them with a chainsaw and replace their heads with roses. When he attempted to kill Karla Ross, he was attacked by one of his previous victims, Suture. He was murdered and strung up as a marionette and pushed into the New York City Police Headquarters.[2]
Character Powers and Equipment
Powers and AbilitiesEdit
Weaknesses
Appearances, Images, and Quotes Edit
ReferencesEdit
Community content is available under
CC-BY-SA
unless otherwise noted.