Jim Unger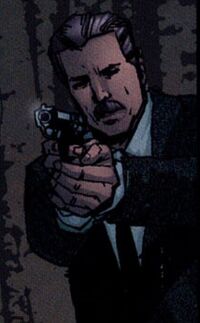 Characteristics
Status
Origin
First appearance
Appearance of Death
Jim Unger and his partner Dave Hunt where two Federal Bureau of Investigation members who spent years hunting the John Doe Killer.
When they received a tip from Sam Burke on the JDK's location, Hunt and Unger sneaked up on Sam and held him at gunpoint outside the JDK's house. Sam tells Unger that Hunt was with the killer. He pointed out the voicemail tip he left never said the address but somehow Hunt knew where to take them. He also noticed Hunt wasn't using his regular gun. When Unger saw the peculiarities he asked Hunt to switch guns with him. Hunt quickly turned and fired at Unger, killing him.[1]
Character Powers and Equipment
Powers and AbilitiesEdit
Abilities
Appearances, Images, and Quotes Edit
ReferencesEdit
Community content is available under
CC-BY-SA
unless otherwise noted.