Jinx Alameda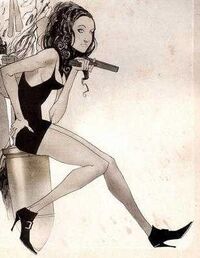 Characteristics
Status
Origin
Jinx is the straight talking, sexy bodied bounty hunter who doesn't take crap from men.
She had a perp she was working on with her temporary partner, Manara. When she was accosted by the perp, she flipped him over and slapped handcuffs on him. Bilal Christian, a rival and dirty Bounty Hunter, showed up and stole the bounty.[1]
Wanting revenge, Jinx soon went to New York City to capture Bilal. She met up with NYPD officers Twitch Williams and Sam Burke who agreed to take her under their wing as long as she proved useful.[2] They soon received a lead on Bilal's location from Manara.[1] When they arrived at the bailbondsman location, gunshots filled the air. Sam and Twitch headed in through the front while Jinx cut Bilal off at the back exit. When Bilal tried to offer Jinx a deal, he was denied and told he's going to jail for killing a cop. When a man entered the alley, Bilal uses it as a distraction to escape.[3]
Sam and Twitch caught up with Jinx in the alley. As Jinx and Sam received a call, Twitch entered the building to chased Bilal. Sam told Jinx that K.C. didn't make it. They broke the news to Twitch. Twitch spots Manara and Pratt in the distance and arrests them for putting them in danger by tipping of Munoz.[4]
At the police station, they interrogate Pratt and Manara. While they didn't know Bilal's location, they received a sudden call from him. While on the phone, bounty hunters broke into the room where Bilal was located and Twitch heard gunfire. Sam and Twitch sent out an APB on the gunshots and received a tip on his location.
They arrived and Jinx once again cornered him. In the tense situation with Jinx and Bilal pointing their guns at each other, Twitch took the shot and killed Bilal denying Jinx of her revenge.[5]

Appearances, Images, and Quotes Edit
ReferencesEdit
Community content is available under
CC-BY-SA
unless otherwise noted.