Joe Sakic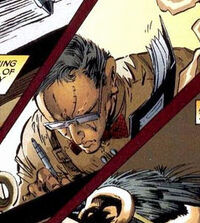 Characteristics
Status
Origin
First appearance
Appearance of Death
Joe Sakic is a meticulous accountant who works for the New York City Mafia. He had forgone friends, family, and human contact to act as the very precise account needed for the New York Mafia activities. One slip would have brought down investigations on them and Joe helped make them seem legit.[1]
When Spawn needed information on Vito Gravano's whereabouts, Joe was only able to provide a single folder to him before being let go. The file contained the research the Mafia was performing on Terry Fitzgerald as they had accidentally assumed he had performed the murders by the Violator.[2]
For acquiescing information to Spawn, the Mafia killed Joe several days later.

Appearances, Images, and Quotes Edit
ReferencesEdit
Community content is available under
CC-BY-SA
unless otherwise noted.