John Mawbley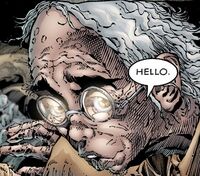 Characteristics
Status
Origin
First appearance
Appearance of Death
John Mawbley is a methodical serial killer. John believed he was doing the Lord's work by murdering people and then removing their eyes, the "windows to their souls". When he was caught in the act by Gretchen Culver, he came after her for her beautiful eyes and shot at her when she was running away. This effectively scared her into running into oncoming traffic and forced deeper psychological issues with her. Unknowingly this led to the birth of Suture. [1]
Later, John Mawbley headed to a movie theater with a gun en tote to complete a mass killing spree. Before he could open fire, Suture attacked and murdered John.[2]

Appearances, Images, and Quotes Edit
ReferencesEdit
Community content is available under
CC-BY-SA
unless otherwise noted.