John Sansker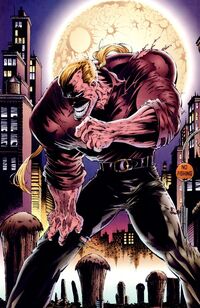 Real Name
Jean de St. Claire
Current Alias
John Sansker
Aliases
Jean Sans-Coeur, Heartless John
Characteristics
Unusual Features
Tattoos all over body
Status
Occupation
Paranormal Researcher
Origin
John Sansker was born in 1032 France as Jean de St. Claire. He as lived through the centuries as a paranormal researcher as a cover. He secretly robs blood banks in these cities where he's researching a monster to receive pure, pre-screened blood. Many of his brethren have died of venereal diseased blood and he steals from blood banks since they screen the blood for him.[1]
John Sansker found The Curse cruficied to the wall. He torched him until he admitted Spawn performed horrible crimes against children.[2]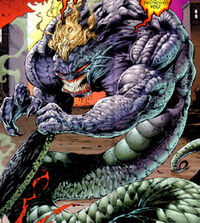 John Sansker came to New York City with the New York City Police Headquarters to serve as their extra normal researcher. He proposed to the city to place posters around the city to drive Spawn out from the Alleys. When Twitch Williams got to close to the truth by uncovering posters and news clippings hundreds of years old on John Sansker, he was twisted into a blood pretzel and rushed to the hospital upon being discovered by his partner, Sam Burke.[3]
Upon being discovered in battle with Spawn, Sansker revealed his true form and transformed into a vampire snake. He disappeared and threatened his influence of New York City to turn on Spawn was only practice for what he had planned for Hong Kong.[1]
Character Powers and Equipment
Powers and AbilitiesEdit
Powers
Weaknesses
Appearances, Images, and Quotes Edit
ReferencesEdit
Community content is available under
CC-BY-SA
unless otherwise noted.