Origin
Owners
History
When Hellspawn are created, they are given a sentient and constantly evolving neural parasite that appears to be suit. The K7-Leetha is hosted by Al Simmons (Spawn) once he became the chosen by Malebolgia. K7-Leetha is the daughter of the 7th House of K. She has evolved stronger and faster than most other hellspawn parasite suits.[1].
Made of Necroplasm, these Hell-born parasites bond for life and become closely connected with their host. Linking directly to their host's central nervous system, the parasite will listen to the needs and protect based on autonomic nervous system responses.
A similar neural parasite, K3-Myrlu, bonded with Billy Kincaid.[2]

Notes
Trivia
See Also
Links and References
---
Origin
Owners
Tarihçe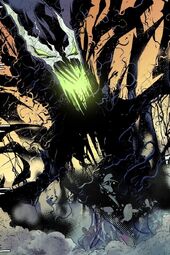 Ne zaman
Hellspawn
oluşturulur, bunlar takım gibi görünen bir hissedebilir ve sürekli gelişen nöral paraziti verilir.
K7-Leetha
tarafından barındırılan
Al Simmons (Spawn)
o seçtiği oldu bir kere
Malebolgia
. K7-Leetha,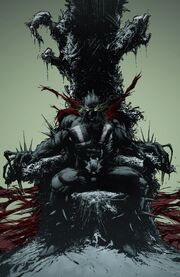 K'nın 7. H'nin kızıdır. Diğer cehennem parazitlerinin birçoğundan daha güçlü ve hızlı gelişti.
[[]]
.
Nekroplazmadan yapılan bu Cehennem kökenli parazitler yaşam için bağ kurar ve ev sahipleriyle yakından bağlanır. Doğrudan ev sahiplerinin merkezi sinir sistemine bağlanan parazit, ihtiyaçları dinler ve otonom sinir sistemi tepkilerine dayanarak korunur.
Billy Kincaid ile bağlanmış benzer bir sinir paraziti olan K3-Myrlu . [[]]

notlar
önemsiz şeyler
Ayrıca bakınız
Linkler ve Referanslar
---
​
Community content is available under
CC-BY-SA
unless otherwise noted.