Characteristics
Status
Origin
It is a malevolent costume that aims to get stronger for 100 years. He connects to ALL but after connecting to jim downing, he tries to control it because he is different and stronger but then he is sent dead zone by the end, he takes it with him from the side before he is sent and then he gets away with it and he gets rid of the way it is controlled by ALL (jim is also coma Enables)
Character Powers and Equipment
Powers and AbilitiesEdit
Powers
While Spawn's abilities have fluctuated over the years, his core powers are derived from the necroplasm that makes up his body. This dense substance grants him superhuman strength, speed, endurance, and accelerated healing. His necroplasm also gives him necro-magic, a variety of supernatural powers including resurrecting the dead, firing blasts of necroplasmic energy, teleportation, flame-breathing, transmutation, manipulation of the elements, shape-shifting, flight, talking to animals, reading minds, invisibility, portal creation, time manipulation, soul manipulation, reality warping, regeneration, feeding off the sins of others to augment his strength and increase his necroplasm counter, and curing the sick. He can even unleash the very fury of Hell through his body, however, his magic is limited by a meter which starts at 9:9:9:9 and drains each time Spawn uses his necro-energy. He is also an empathic being, being able to sense the emotions of others whenever he chooses.
Spawn wears a living, sentient necroplasm-based symbiote suit, named Leetha of the 7th House of K (K7-Leetha). The suit feeds from the necroplasm in Spawn's body and his cape, spikes, and chains are all part of an organism that is bonded to his central nervous system; because of this connection, Spawn can mentally manipulate the suit to perform shape-shifting feats without draining his necro-meter.
Although Spawn is virtually immortal, he may be killed by a holy weapon forged in Heaven or by his own necro-power. He is also rendered powerless (and therefore mortal) in places that are immune to the influence of Hell, such as The Dead Zone (a patch of alley that is touched by Heaven) and the Greenworld. symbiote can also take a separate form from the host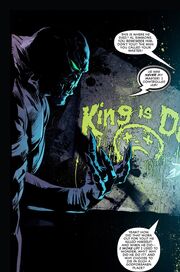 Abilities
unknown
Weaknesses
Light
Appearances, Images, and Quotes Edit
hes like venom symbiote but hes evil.

ReferencesEdit
Community content is available under
CC-BY-SA
unless otherwise noted.