Kamin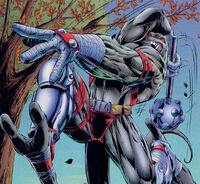 Characteristics
First appearance
Appearance of Death
Kamin was one of the Kindred working for Bloodmoon. He was the muscle of the group, with a primitive mindset.
Kamin and Fennex attacked Marc Slayton at Coney Island, a fight that ended when Bloodmoon had Marc's daughter Jodi caught by Slider and forced Marc to surrender.[1]
Bloodmoon sought the Gen-Factor in Marc's blood, but his blood was useless, so Slide got a sample of Gen-Active blood from Jodi. As Marc wasn't useful anymore, Bloodmoon sent Kamin to kill him, but Marc had freed himself. A fight ensued until Marc made Kamin trip on a chain and fall head-first on a high voltage fuse box that electrocuted him to death. His death was confirmed when Dingo didn't find his pulse.[2]

Appearances, Images, and Quotes Edit
ReferencesEdit
Community content is available under
CC-BY-SA
unless otherwise noted.