Ken Dillisch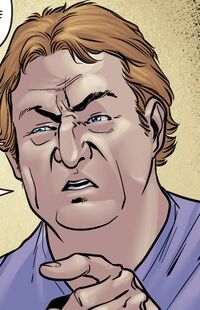 Characteristics
Status
Origin
Ken Dillisch is the mayor for Wausau.
After the scandal with exported body parts broke the news, Mayor Ken Dillisch met with Sheriff Wayne Cypress to discuss their options. When Wayne crossed him, he reminded him that this needed to stay between them the same way 18 years ago did. He later returned home to find his wife, Diane, with blood in her mouth and suddenly coming back to life as a Reviver.[1]
Later, an investigation began into Anders Hine, a reviver serial killer who had killed his family. Wayne Cypress had sent his men to various locations around the city to investigate. Ken reassigned Ibrahaim Ramin to checkout Edmund Holt's home as was slightly racist towards him as was Edmund. He figured sparks would fly when the two got together. He met with Wayne Cypress over drinks and he let him know about sending Ramin out there. Wayne grew concerned as Dana had recently shown interest in him even though Wayne was slightly racisct too. Wayne grabbed his coat to run out and see if Ramin was ok despite Ken laughing that he'd be fine.[2]
Later, the Ken met with the CDC. They informed him they found high levels of Deuterium Oxide in the water, a nuclear-waste run-off.[3] Ken used this as a reason to quarantined livestock to be culled for the CDC.[4] This coincided with the CDC's plan to build a facility to not only investigate livestock, but research Revivers.

Appearances, Images, and Quotes Edit
ReferencesEdit
Community content is available under
CC-BY-SA
unless otherwise noted.