Kendal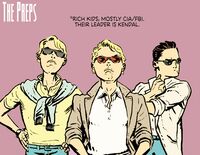 Characteristics
Status
Origin
First appearance
Appearance of Death
Kendal is the leader of the Preps.
Origin
His father was a CIA member who had killed women and children in their sleep. Kendal never came to grips with accepting his father was a ruthless killer.[1]
Kill the Rats
Kendal enrolled in the Assassin school and became a prominent figure. However, he had a secret boyfriend, Stephen. The two would exchange love letters, which Kendal kept locked up under his bed, but they keep their relationship a secret from the rest of the class.[1]
One day in the showers, Kendal saw Marcus Arguello in the showers. He spoke with Marcus about all the killings happening, unknowing that Marcus was the cause. As he left, he told Marcus to get his junk checked out as it looked like herpes.[2]
However, his joking nature was soon cut short. Master Lin soon declared finals were to kill all the "rats", those that had disobeyed the rules of the school. Shabnam quickly made his move and teamed up with several students who were not rats, including Kendal. However, Kendal secretly helped his boyfriend, Stephen without the others knowing.[3] Kendal approached Shabnam who was quickly becoming the mastermind behind hunting down the rats. However, when Kendal tried to get Shabnam to stop he was called out for helping Stephen. Kendal was shocked that someone knew about his secret love affair. Shabnam informed him he had been following him for weeks and had evidence about his homosexual relationship. If Kendal didn't agree to hunt down Stephen, Shabnam threatened to release the information about Kendal's relationship with Stephen.[1]

Appearances, Images, and Quotes Edit
ReferencesEdit