Khylund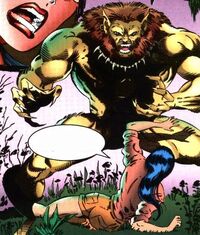 Characteristics
Origin
First appearance
Appearance of Death
Khylund was the leader of The Jakarta Tribe. When his people massacred Meg Tsuchida's expedition, Khylund spared Meg, the only survivor, and they fell in love. The tribe opposed to Khylund's union with a human and tried to kill her and their son, but Khylund fought his people to allow Meg and the child to escape, dying in battle.
Character Powers and Equipment
Powers and AbilitiesEdit
Powers
Abilities
Appearances, Images, and Quotes Edit
ReferencesEdit
Community content is available under
CC-BY-SA
unless otherwise noted.