Kirk McGuire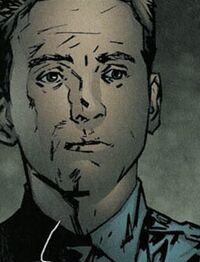 Characteristics
Status
Occupation
Police Officer
Origin
Kirk McGuire is an officer for New York City Police Department. His father is the budget commissioner for land development and frequently is suspected of receiving favors.[1]
One day, Kirk McGuire and his partner chased down two small-time jewel thieves. They split up and McGuire was disarmed and had his pistol stolen. He was put under pressure for losing the gun. His dad had him put on the John Doe Killer case to gain fame.[2] However, he was soon accused as evidence surfaced of him buying ski masks. In addition, an employee named him as purchasing the ski masks at a sports store.[3] McGuire was placed on leave for the allegations.
While on leave, McGuire continued to pull strings from his dad to get FBI case files on the JDK. He gives the data to Twitch Williams and asked him to help solve his case.[4]
He soon helped track down the killer's location to New Jersey where he arrived just in time to help save Sam Burke from being killed by a two-faced FBI agent, Dave Hunt.[5]
Character Powers and Equipment
Powers and AbilitiesEdit
Abilities
Appearances, Images, and Quotes Edit
ReferencesEdit
Community content is available under
CC-BY-SA
unless otherwise noted.