Lola Montressori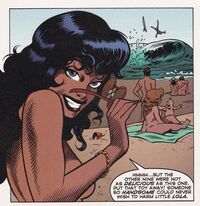 Real Name
Lola Montressori
Affiliation
Hans (her bodyguard)
Characteristics
Status
Origin
Lola Montressori is the daughter of a wealthy man. Her fathers wealth has meant that many wish him and his family harm.
One day, while at Black's Beach, Lola met Grunge when he was going surfing. Lola took a liking to Grunge, but he was not interested in her as he made a promise to Roxy that he was there for the waves, not the babes.
After Grunge went out to sea to surf, Lola went into the sea and started splashing about for a little fun, which is when a group of Nazi pirates attacked her and her guard, Hans, wounding him, and attempted to kidnap Lola. Grunge noticed this, and he fought her attackers. The pirates then fired a missile at the beach after realising that their first plan failed. Grunge was able to turn the missile around and hit the pirates' submarine with it, destroying them.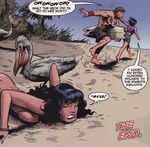 Lola thanked Grunge for saving her life and began flirting with him, when Roxy showed up. Roxy then used her powers to add 100 pounds to Lola's breast implants, causing Lola to fall to the ground, unable to get up.

Appearances, Images, and Quotes Edit
ReferencesEdit
Community content is available under
CC-BY-SA
unless otherwise noted.