Luther Strode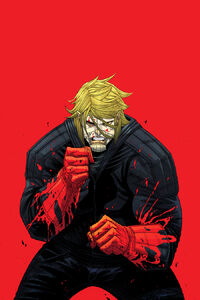 Characteristics
Status
Origin
Luther was a skinny young man, who lived with his very mother, and had one best friend, who was also into comic books and video games. Luther's new life started when his mind and body was permanently pushed to beyond human capacity, all while biological still being human,"...focus the mind, body and spirit towards one goal. By bring all three into alignment, the physical enthusiast can bring all of them under conscious control." Luther developed some strange talents; incredible reflexes, a danger sense, strength, and much more.
Character Powers and Equipment
Powers and AbilitiesEdit
Powers
Once the transformation ended Luther's mind, spirit and body were permanently altered. His physical appearance, muscle mass, etc. were enhanced and perfected, becoming extremely attractive and handsome.  Luther became a very tall, very well-built elegant man with a compelling voice and overwhelming authoritative charisma. He permanently has flawless skin, perfect dentition, beautiful, wavy hair, "perfect golden-proportioned body," brawny and well-toned muscles, and he is extremely "well-endowed". His passively secretes powerful pheromones that make him irresistibly attractive to women. Studying his DNA, results in nothing unusual, as he is still biologically a perfect human.
Unfathomable Resilience: Luther is virtually impervious to all forms of physical harm, injury or pain.
Unfathomable Senses:Luther senses enables him to see, hear, smell, feel, and taste things imperceptible to humans.
Unfathomable Agility: Luther is extremely coordinated and has shown advanced equilibrium while avoiding bullets and other items thrown at him that normal humans would not be able toa void in time.
Regeneration: Luther can flawlessly regenerate from any injury in a short period of time. Luther is immune to all detrimental contaminants, illnesses, disorders, defects imperfections, etc. He is immortal, unable to age or die.
Appearances, Images, and Quotes Edit
ReferencesEdit
Community content is available under
CC-BY-SA
unless otherwise noted.