Major Forsberg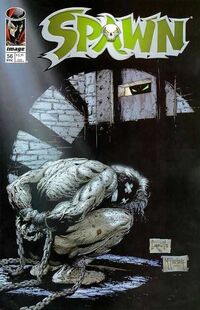 Current Alias
Major Forsberg
Characteristics
Status
Origin
First appearance
Appearance of Death
Major Forsberg was held captive in a foreign prison in solitary confinement for years. The prison was owned by Jason Wynn. Terry Fitzgerald and Spwan believed he would be valuable in bringing down Wynn as he had gone to great lengths to keep the major imprisoned. However, they soon found the Major was too badly damaged mentally to be of any help.[1]
While hanging around the Bowery Alleyways with Spawn, Major Forsberg was frequently frightened by the worms, bats, and other creatures of darkness Spawn was using to replenish his powers. When Spawn began operating on Cy-Gor and Forsberg had valuable information on Cy-Gor's past and the implications of Wynn ordering Cy-Gor's cybernetic experiments.[2]
Forsberg soon returned to his incoherent ramblings until he ran off without warning.[3]
Spawn Righting his Wrongs
After leaving Forsberg locked in a prison, Spawn is coached by Nyx to return and right his wrongs. He enters Forsberg's mind by touching him and helps him release his guilt. Forsburg eventually requests that he be freed and Spawn obliges and kills Forsburg.[4]
Character Powers and Equipment
Powers and AbilitiesEdit
Abilities
Weaknesses
Mental Illness: Major Forsberg was imprisoned in solitary confinement for years. He drove himself mad and began writing messages in blood on the wall while captured.
Appearances, Images, and Quotes Edit
ReferencesEdit
Community content is available under
CC-BY-SA
unless otherwise noted.