Man of Miracles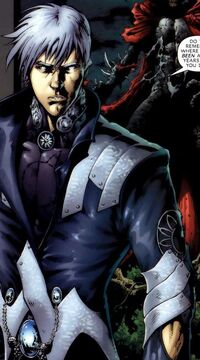 Current Alias
Man of Miracles
Aliases
Mother
Kali
Hesus Priest
Gaia
The Keeper
Characteristics
Unusual Features
Blue eyes, but no pupil and has tattoo-like marks on his face then his face can become clear.
Origin
The Man of Miracles (aka MoM, a fan abbreviation) is a mysterious super-being who has appeared in the alleys to offer his guidance and wisdom to The Hellspawn so that he might play his part in Armageddon. He is a being of practically unconceivable power who has been the architect behind most of the events in the Spawn universe, holding significant knowledge about Al Simmons and his role as Spawn, knowledge that not even Mammon possesses and possessing powers beyond than of God or Satan. His true form is as the "Mother" of Existence, though he is neither male nor female.
Character Powers and Equipment
Powers and AbilitiesEdit
Powers
Omnipresence or ubiquity is the property of being present everywhere. This property is most commonly used in a religious context as an attribute of a deity or supreme being.
Appearances, Images, and Quotes Edit
His appearance changes depending upon who is perceiving him. He has appeared as an anime-inspired hero, as Miracleman and as a mysterious woman covered in ivy who was presumably Gaia, the Hindu goddess of Vengeance (known as Kali) Hesus Priest and as the Mother of Creation. People see him as they want to, he explains that this is because reality is far more malleable than humanity believes. In his anime guise, MoM's look changes consistently from panel to panel. The tattoos on his face are different each time, the logo on his chest appears and reappears and sometimes his shirt disappears but his logo remains visible on his skin. It is unknown why there is such little consistency to his look in this form.

ReferencesEdit