Seahawk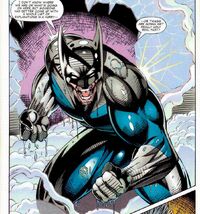 Characteristics
Status
Origin
Origin
Genetic enhancements inherited from parents and unlocked through magic
Son of the wealthy Bernand Barros Marc left for a research trip with his father and brother Marc but their submarine was shot down by the evil Warlok, luckily for them were rescued by Roman who through the magic of his people was able to give him the ability to breathe underwater and unlock their powers.
Marc thus obtained enhanced strength and durability and the ability to fly, Marc was then recruited into the second iteration of Brigade by Battlestone, and together with the team he fought against the evil alien Genocide.
During the years Marc battled powerful opponents but lost his will to fight after the apparent death of his brother at the hands of Crypt.
Marc, having abandoned his career as a superhero, tried to keep the team together by supporting it financially but after the death of ShadowHawk and the attempt by a group of cults to take control of the underwater city of Neuport Marc found his fighting spirit and together with the rest of the team manage to avert the crisis.
Unfortunately shortly after Battlestone and some members of Youngblood launched an offensive against Brigade and killed most of the team, Marc and Roman arrive too late to help their companions and Marc is overwhelmed by a surprise attack by Cougar but is saved at the last moment by Roman who brings him to safety.
Years later Marc as he patrols the seas runs into an alien invasion attempt and clashes with a large alien sea monster.
Character Powers and Equipment
Powers and AbilitiesEdit
Powers
Amphibious: Like his father and his brother Seahawk was given the ability to breathe underwater by Roman.
Superhuman Strength: Seahawk's strength has been increased to superhuman levels and is now able to deliver blows capable of cracking concrete walls.
Superhuman Durability: Seahawk has a greater impact resistance than that of a common human being.
Flight: Seahawk can fly at high speeds both in the air and underwater.
Accelerated Healing: Seahawk can heal at an extremely high speed compared to that of a human being. He is able to completely heal from three gunshot wounds, a dislocated jaw and numerous cuts and abrasions in just half an hour.
Appearances, Images, and Quotes Edit
ReferencesEdit
Community content is available under
CC-BY-SA
unless otherwise noted.