Mash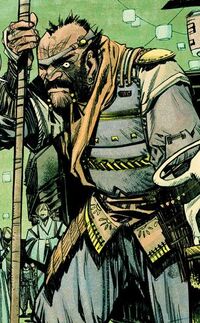 Relatives
Jimmy (brother, deceased)
Characteristics
Origin
First appearance
Appearance of Death
Mash lives in Japan in the year 2089.
One day, Led Dent and Debbie Decay were sent to Japan to disable the EMP. They stumbled into Kazumi who welcomed them and healed their wounds. Mash appeared and gave them a hard time as outsiders but then revealed he was only joking. He continued to watch them from the shadows as he truly did recognize Led as an ex-constable and planned against him.[1]
Later, Mash tracked down Led to a watering hole. He and his gang of thieves attempted to kill Led. Mash revealed his brother was the one who had beat Led and filmed him it for the internet to watch. As a result, Led had tracked down his brother and severely injured Mash and Jimmy years later as a constable. Mash was then attacking Led as revenge. However, Led smashed his face in with a rock.[2]

Appearances, Images, and Quotes Edit
ReferencesEdit
Community content is available under
CC-BY-SA
unless otherwise noted.