Matthew Llanso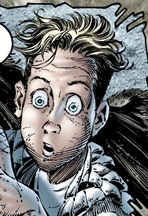 Characteristics
Status
Origin
As an adult, Madrid Llanso gave birth to an out of wedlock son, Matthew Llanso. In a post-apocalyptic world they found themselves frequently running from Necro-Soldiers as they were pursued by the Anti-Pope and his dark forces' war Armageddon against Heaven.
When they were cornered by Desiccator, Daniel Llanso was reborn as the new Hellspawn and saved her life. Mardrid was terrified of the creature, not knowing it was her brother, and ran to a human encampment for refuge bringing Matthew with her.[1]
When the encampment was attacked by Bune and his Navkies, Daniel once again came to their rescue.[2] During the attack, Matthew was taken from them by a human puppet, Abel, for the Anti-Pope. He was brought to a tower to be sacrificed by the forces of Evil. When Daniel arrived to save him, he was given a choice. Kill Matthew before he is baptized so that he may head to Heaven, or let him be turned to the forces of darkness. Daniel transported Daniel to the place he wanted to go the most, his mother, and thus rejecting both offers.[3]
Madrid and Matthew ran once more, this time back to New Hope. There, Caine concocted a plan to destroy Nu-Vatican City and hopefully free mankind from persecution. They set off a nuclear bomb armed train at the same time Daniel attacked the city. Madrid and Matthew escaped to restart life in the hell-torn world.[4]

Appearances, Images, and Quotes Edit
ReferencesEdit
Community content is available under
CC-BY-SA
unless otherwise noted.