Attica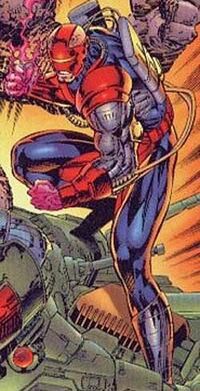 Characteristics
Status
Origin
Place of Birth
Brooklyn, NY
Attica is the leader of the mercenary trio known as the Troika. He has robotic enhancements.
The Troika first appeared working for the Gnome, helping him to retrieve the orb from Helspont. After the Gnome was defeated by Lord Emp, the Troika fled.[1]
When the Troika, working for Tapestry, faced the WildC.A.T.s again, Attica was defeated by the C.A.T.s' ally Huntsman manipulating H.A.R.M.'s artillery, and was then held at gunpoint by Soldier.[2]
After H.A.R.M.'s death, Attica and Slag attended his funeral, where Attica tried to impress H.A.R.M.'s widow Irene. They were captured at the funeral by Savant's new WildC.A.T.s.[3]
Attica and Slag were kept in a virtual reality environment[4]. When the WildC.A.T.s found that Tao had caused the war through manipulation, he freed Attica and Slag as a distraction. They weren't sure if it was still the virtual reality, but they decided to kill the WildC.A.T.s anyway. John Colt suddenly appeared and his change of codename further confused them, so they decided to escape to fight another day.[5]
Character Powers and Equipment
Powers and AbilitiesEdit
Powers
Abilities
Computer Operation: Maxwell can access any computer and bypassing any security codes when he comes into contact with the computer.

ParaphernaliaEdit
Equipment
Appearances, Images, and Quotes Edit
Appearances in Other Media Edit
Attica appeared in the WildC.A.T.s animated series, mostly as Spartan's rival.
Attica is the first boss of the WildC.A.T.s video game for Super Nintendo. He tries to run over Spartan with a forklift.

ReferencesEdit
Community content is available under
CC-BY-SA
unless otherwise noted.