Real Name
Sir John of York
Current Alias
Medieval Spawn
Characteristics
Origin
Medieval Spawn was both a knight and Hellspawn from the medieval era of 16th century England.
Medieval Spawn/Witchblade Crossover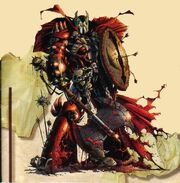 Due to Lord Cardinale's invasion of the Elven world of Faerie, a time portal opened thrusting Medieval Spawn into the Top Cow Universe. When he found Katarina Godliffe, who recently discovered the Witchblade, under attack, he aided her in fighting off the invading troops. After a short discussion, they agreed to travel to nearby Faerie and vanquish the invading armies.[1]
Upon arriving, they were aided by Archon Matthew Royale into infiltrating the castle and battling the Lord Cardinale. Katarina removed the invading lord's head and they returned home, successful upon their victory. Spawn returned to his home timeline and left the Top Cow Universe.[2]
Medieval Spawn's Death
While still a new Hellspawn, Medieval Spawn was stalked by an agent of Heaven, Angela. He was lured into an isolated cave and was murdered by the experience Hellspawn slayer by her Dimensional Lance.[3]
Resurrection
Thanks to Al's nuke Medieval Spawn was resurrected in the modern times.
Character Powers and Equipment
Powers and AbilitiesEdit
Powers
Abilities
Appearances, Images, and Quotes Edit
ReferencesEdit
>