Mike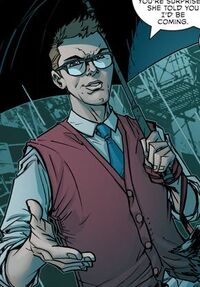 Characteristics
Origin
Mike the Messenger was sent by God to assist Al Simmons.[1] After receiving instructions from God, Mike showed Al to a fortune teller who revealed his costume is made of dead innocent souls from Al's past.[2] When Al learned that Wanda was held in the Tunnel, Mike helped explain he would need an Angel and Demon guide to open the gate. He agreed to be the Angel guide for Al.[3]
Character Powers and Equipment
Powers and AbilitiesEdit
Powers
Appearances, Images, and Quotes Edit
ReferencesEdit
Community content is available under
CC-BY-SA
unless otherwise noted.