Mildred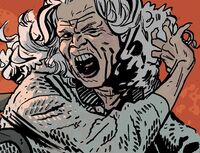 Characteristics
Status
Origin
Mildred was a quiet old woman who lived by herself. When she became possessed by a demon, Reverend Anderson attempted to exorcise her. He believed he had succeeded and continued to bring her groceries and check in on her over the months. However, when Kyle Barnes touched her, she instantly began coughing and spitting black blood out of her mouth. The Reverend ushered Kyle out and apologized to Mildred for the inconvenience.[1]
Later after a failed exorcism with Blake Morrow, Kyle returned and touched Mildred to see if she would react to his touch the same way all the other possessed individuals did. When she screamed in pain, the Reverend and Kyle realized she was possessed. They left her to be for the time being with the idea of potentially getting more information out of her.[2]
Later, Sidney visited Mildred at her home. Mildred and Sidney discussed that she needed energy and that she may not make it to the Merge. She attempted to kiss Sidney and absorb his energy like many do with Kyle, but they both rejected each other and coughed. He reminded her it wouldn't work and she admitted she knew but wanted to try.[3]

Appearances, Images, and Quotes Edit
ReferencesEdit
Community content is available under
CC-BY-SA
unless otherwise noted.