Mister Liu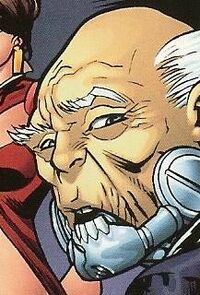 Relatives
unnamed wife (deceased)
Characteristics
Unusual Features
Cybernetic lower jaw, mouth, and tongue.
Status
Origin
Origin
Long ago in China, Mister Liu's land was destroyed by a dragon. He lost his family to this dragon. After sorcerers from various kingdoms found a way to stop it, they needed a human subject to bind it to. Angry and with nothing to lose, Liu volunteered. After drawing the incantation on Mister Liu's chest, the dragon would be trapped into him. However as the years passed, Liu would get older and the dragon would get closer to being released. In order to stay alive, he would given cybernetic enhancements to sustain his life. [1] He would also join the supervillain group known as The Order.
Present Day
In the present day, Mister Liu battled the superhero known as Omni-Man in Taiwan and the battle was televised on TV.[2]
Character Powers and Equipment
Powers and AbilitiesEdit
Powers
Magic: Mr. Liu can summon a soul dragon from his body whenever he becomes unconscious.
Weaknesses
Vulnerability to Attack: When Liu summons the dragon, he goes unconscious and is vulnerable to attack. To compensate for this, he has a strong bodyguard guard him while he is unconscious.
Appearances, Images, and Quotes Edit
ReferencesEdit