Morana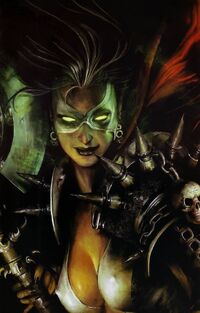 Characteristics
Morana is Al Simmons's miscarried daughter, believed to have been killed by her father before she was born while in reality she was kidnapped at birth by Mammon to be raised as the greatest Hellspawn. She is a servant of Mammon and an enemy of her father. She was sealed away by Nyx alongside Mammon and it's later revealed in Spawn: Resurrection, Al was never abusive to Wanda as that was a lie made by Hell to get him into suicide. In actuality, Al had a unborn son rather than a daughter, who was stillborn and was revealed to be his lost humanity.
Character Powers and Equipment
Powers and AbilitiesEdit
Powers
After bonding with K7-Leetha Morana acquired all the ability of an Hellspawn.
Appearances, Images, and Quotes Edit
In Spawn:Ressurection,It's shown that Al's abuse of wanda was actually a lie made up by the demons to get him into suicide and that his unborn child was stillborn as well as male.

ReferencesEdit
Community content is available under
CC-BY-SA
unless otherwise noted.