Mr. White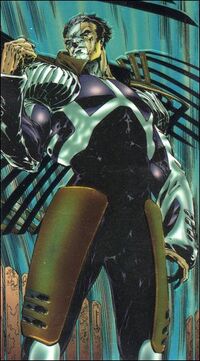 Characteristics
Unusual Features
White vertical streak on his face
Mr White is one of the Daemonites who crashed on Earth milennia ago. White used his shapeshifting powers to take Maul's place in the WildC.A.T.s and assassinate an industrial magnate, but was found and seemingly killed by Black Razor leader Benito Santini. As he was a shapeshifter just like Hightower, everybody believed White was working for Hightower, but actually he served Lord Defile.
Defile went to the morgue and revived Mr White so he would recover one of the keys of the Daemonite vessel, which was in Deathblow's hands. White took Grifter's shape to take the key.
Mr White was captured by the new WildC.A.T.s that Savant had formed to replace the seemingly dead team.
Character Powers and Equipment
Powers and AbilitiesEdit
Powers
Appearances, Images, and Quotes Edit
ReferencesEdit
Community content is available under
CC-BY-SA
unless otherwise noted.