Naamah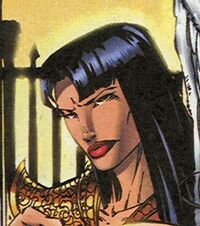 Characteristics
Origin
Naamah was an errand girl for one of the demons in Hell. She was sent to murder Joseph Yallod before he was able to succesfully resurrect one of Heaven's most powerful Angels, Celestine. She found an unlikely ally in several Angels who also cam to stop Celestine from being resurrected. After turning on the Angels, she killed Yallod as well.[1]
Character Powers and Equipment
Powers and AbilitiesEdit
Powers
Transformation: Naamah is able to transform into a demon with razor sharp claws and teeth.
Appearances, Images, and Quotes Edit
ReferencesEdit
Community content is available under
CC-BY-SA
unless otherwise noted.