Omnipotus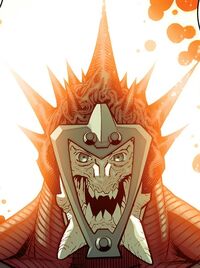 Characteristics
Unusual Features
Extremely pale skin, Skin spikes on faces and knuckles
Status
Origin
First appearance
Appearance of Death
Origin
Not much is known about Omnipotus's origin or how his powers came to be. However, his dimension was drained of energy during his time there, making his stronger than ever.
Seeking More Energy
Omnipotus had arrived to Earth to drain the energy to restore the energy he had previously lost. He was met with Guardians of the Globe, Capes, Inc, and other independent superheroes. He was able to fend them off until the arrival of Black Samson, who's powers have been restored and surged from months of not using them. Samson charges into Omnipotus and sends him back to his dimension. Samson also destroyed his warp key, the only way to get back to Earth. During Invincible's battle with Angstrom Levy, Omnipotus would battle him for a brief time. Omnipotus would find a way back to Earth and drain energy for months at a time. Omnipotus would arrive to defeat the Guardians and the others. Invincible and Dinosaurus would arrive to fight him. Dinosaurus bites Omnipotus's head and it explodes, causing a larger explosion from his body.
Character Powers and Equipment
Powers and AbilitiesEdit
Powers
Appearances, Images, and Quotes Edit
ReferencesEdit
Community content is available under
CC-BY-SA
unless otherwise noted.