Previous Issue
Next Issue
—
Appearing in the 1st Story
Featured Characters:
Supporting Characters:
Christa McAuliffe (In a vision)
Villains:
Other Characters:
Locations:
Items:
Vehicles:
Plot Synopsis for the 1st Story
Erin wakes up holding an apple on a planet that is overlooking a blue planet. Suddenly, she's approached by an angel astronaut and is told she is being welcomed to Heaven. Erin asks if the angel is Christa McAuliffe, and the angel confirms she is. Christa tells her Gram and the rest of the crew from the Challenger are there as well, except for her goldfish who didn't make it. Christa also tells her that her sister, Missy, is in Hell. However, she has a chance to save her if she answers a question correctly. When the Devil speaks gibberish to her, she mouths back at them and tells them this is a dream. Christa scolds her from eating from the tree of knowledge as she plucks the apple from Erin's hands.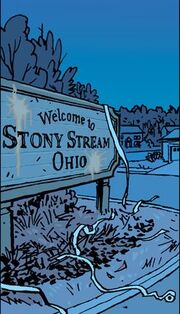 Erin wakes up in her room. She leans over from the top of the bunk bed and asks her sister on the lower end, Missy, if she's alright. Her sister sleepily shrugs it off as she goes back to sleep. Erin gets up and looks at the clock. It's 4:40am and the calendar has a handwritten note of "Hell Day" written on it for November 1st. She prepares her newspaper bundle and hops on her bike as she prepares to delivers papers for her early morning route. Several teenager boys begin harassing her on her route, and demand one of her papers. Erin is suddenly saved by a girl who pulls up on her bike and talks back to Lucas Kurzenberger, threatening to tell his Coach father if he keeps harassing Erin.
After the boys leave, Erin learns the girl is MacKenzie, one of the first girls to get a paper route. Her friends Tiffany and K.J., speak up and introduce themselves. Tiffany tells her she goes to the Catholic School, St. Nick's, with her. They tell Erin they teamed up last Halloween to deliver to the All Saints' area because of the crazies. Mac proposes they split up, and that she'll take Erin to deliver papers to the development.
As they deliver, Mac tells her they won't deliver to a house that stiffed them last time. Playing by the rules, Erin asks shouldn't they deliver until the company cancels them. Mac tells her it's her rules on her route. Erin is subtly impressed by her confidence. They're suddenly approached by several Stony Police Department officers. They call Mac by the name of Coyle and ask if she's getting into trouble as a part of her family business. Eric sticks up for her and tells her Mac has been straight until the officers leave.
Suddenly, they get a call over the walkie-talkie that Tiffany and KJ are in trouble. Erin leads them on a shortcut to where they radio their location. Erin arrives just in time to learn that they had been robbed and had their radio stolen by three men in ghost costumes who were speaking a strange language. Mac picks up the radio and in a bad ass manner tells the other line of the walkie-talkie that she's coming for them.
They follow the path they believe the men headed towards. They stumble across a home development area and find a home with an opened window. They peer inside and smell an awful stench. They investigate further and stumble upon a black tarp in the basement. They pull the tarp off and discover a large machine that looks like a pod. Erin immediately fears it's an alien ship, but KJ thinks they guys that robbed them built it and put it there as a hoax. She figured they knew they worked for a newspaper and could start a rumor as it was the anniversary of the War of the Worlds radio prank.
They are suddenly transported by the machine. They walk outside and notice the stars look completely different though the neighborhood appears the same. They suddenly spot the boy thieves and chase down the boys and unmask them to learn they are aliens. KJ touches one and begins speaking their language. As the aliens escape, they leave behind a device with an Apple logo on it.


Solicit Synopsis
SAGA writer BRIAN K. VAUGHAN launches a brand-new ONGOING SERIES with superstar Wonder Woman artist CLIFF CHIANG! In the early hours after Halloween of 1988, four 12-year-old newspaper delivery girls uncover the most important story of all time. Stand By Me meets War of the Worlds in this mysterious young adult adventure, starting with a spectacular DOUBLE-SIZED FIRST ISSUE for the regular price of just $2.99!


Notes
Trivia
See Also
Recommended Reading
Links and References
ReferencesEdit

Halloween Specials
This issue is Halloween themed, celebrating holiday scares, Jack the Pumpkin King, and ideally some pumpkin flavored anything.
This template will automatically categorize articles that include it into the Halloween category.
Community content is available under
CC-BY-SA
unless otherwise noted.