Pelobos of the North Coast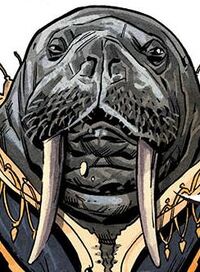 Real Name
Pelobos of the North Coast
Base Of Operations
North Coast
Characteristics
Status
Origin
Place of Birth
North Coast
Pelobos was a wizard from the North Coast. Like many distinguished wizards, he attended the feast at the Grand Colloquy and witnessed Gharta's presentation on the decline of magic through the Autumnlands. He voiced his concerns of what the gentlebeings should do, and suggesting that they ration the remaining hastas supply to a trickle. Gharta joked that such rationing would not be such a bad idea, especially for the overweight walrus, earning Pelobos a hearty laugh.[1]
Character Powers and Equipment
Appearances, Images, and Quotes Edit
ReferencesEdit
Community content is available under
CC-BY-SA
unless otherwise noted.