Phil Timper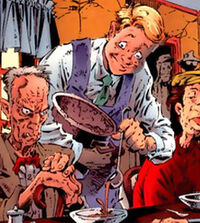 Characteristics
Status
Origin
First appearance
Appearance of Death
Phil Timper was a man who was in and out of prison and did not have his life together. It was only 11 years ago he found the lord and changed his ways to be a perfect citizen. He is suddenly teleported to Orbital Angel Station and imbued with Elemental Fire to become the next Redeemer. Upon order, he tracked and retrieved Bobby for heavan. He was the first example to ever have been resurrected by Necroplasm magic given to him by a Hellspawn.[1]

When Spawn infiltrated Terran Affairs Headquarters to retrieve his friend, he found Phil Timper as the Redeemer even more powerful than Jason Wynn. After having his arm sliced off, Phil's body began spewing pure Elemental Fire. The building floor was exploded with a Necroplasm bomb as Spawn escaped with his friend.[2]
Character Powers and Equipment
Appearances, Images, and Quotes Edit
ReferencesEdit
Community content is available under
CC-BY-SA
unless otherwise noted.