Poyo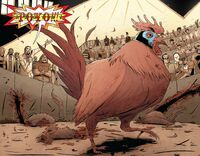 Characteristics
Unusual Features
Chicken who wears a battlemask
Status
Origin
Poyo is an infamous chicken fighter. He attacks light lightning and is described as being a 'demon' by D-Bear.
He was originally held captive on Yamapalu, but was stolen by Chief of Police and brought state-side to fight. He was taken from Raymond by Butcher Jones.[1]
He was instated in the U.S. Department of Agriculture as an agent. He was used as a last resort to wipe out the evil dictator JonTongJoo and succeeded in wiping out the remaining troops.[2] As a result of his excellent service record, and Director Penya's romantic involvement with John Colby, Poyo was soon partnered with John Colby.[3]
Character Powers and Equipment
Appearances, Images, and Quotes Edit
ReferencesEdit