Poyo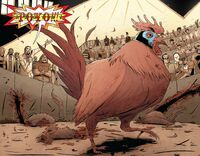 Characteristics
Unusual Features
Chicken who wears a battlemask
Status
Origin
First appearance
Appearance of Death
Poyo is an infamous chicken fighter. He was recruited to the FDA and USDA as a doomsday device they could use to kill entire armies. He attacks with lightning fast speed and is described as being a 'demon' by D-Bear.
Origins
Poyo was originally held captive on the small island Yamapalu. He was an illegal chicken fighter that became notorious for eviscerating his opponents. He was stolen by The Chief of Police and brought state-side to fight. He was taken from Raymond by Butcher Jones who would enter the chicken into fights illegally.[1]
USDA Work
Later, he was instated into the U.S. Department of Agriculture as one of their top agents. He was used as a last resort to wipe out the evil dictator JonTongJoo and succeeded in wiping out the remaining Korean troops.[2] As a result of his excellent service record, and Director Penya's romantic involvement with John Colby, Poyo was soon partnered with John Colby at the USDA.[3]
After a failed attempt of capturing the Collector, John Colby sat with his partner, Poyo, at a bar. He apologized for being such a mess-up as the left the bar. He unexpectedly turned to Poyo and snapped his neck.[4]
Character Powers and Equipment
Appearances, Images, and Quotes Edit
ReferencesEdit