Pratt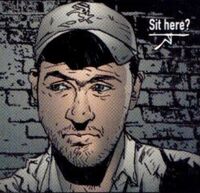 Characteristics
Status
Origin
Pratt and Manara had cornered Bob Matson, a rogue bounty. When they were going to turn him in to Carl Munoz, Bilal appeared once more and stole the bounty again. For revenge, Manara called Munoz to set Bilal up to be shot upon entering his facility.[1]
Later, Manara and Pratt continued to follow Bilal. Twitch spotted the in the distance and arrests them for putting them in danger by tipping of Munoz.[2]
At the police station, they interrogate Pratt and Manara. While they didn't know Bilal's location, they received a sudden call from him. While on the phone, bounty hunters broke into the room where Bilal was located and Twitch heard gunfire. Sam and Twitch sent out an APB on the gunshots and received a tip on his location.[3]

Appearances, Images, and Quotes Edit
ReferencesEdit
Community content is available under
CC-BY-SA
unless otherwise noted.