Psius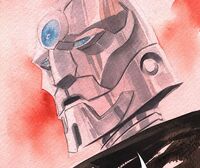 Characteristics
Origin
Psius is the leader of the rebel group of robots, The Hardwire. He led the risky charge on Gnish, home planet of robot hunters, to free Tim-21.[1] When he found lord S'Nok was there, he had him executed as a symbol of the rebellion. They left with Tim-21, but only after the stipulation that they would bring Captain Telsa and Doctor Jin Quon.[2]
Upon arriving at the Machine Moon, they were sent to rooms. Psius told them they were not sure what they would do with them yet. Psius kept pushing to separate them from Tim-21. He wanted to know more about his dreams and believed his visions of the Harvesters returning were a prediction of the future.[3] Psius ran tests on Tim-21 to see if he could glean anything from the robot but found nothing. Telsa became increasingly distrustful of Psius and believed Psius was keeping them as prisoners. Psius continued to not let them explore but allowed Tim-21 free reign of the facility. Later, Psius found Telsa and Dr. Quon breaking into a restricted area and found they had discovered his hidden Harvester robot. He informed them they weren't Harvesters to machines, they were Gods.[4]
Character Powers and Equipment
Powers and AbilitiesEdit
Abilities
Appearances, Images, and Quotes Edit
ReferencesEdit
Community content is available under
CC-BY-SA
unless otherwise noted.