Rachel Halloran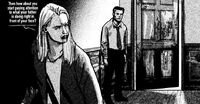 Real Name
Rachel Halloran
Characteristics
Origin
Rachel Halloran is the wife of New York Senator Sean Halloran. She had a child by Sean's father, Seamus Halloran, when Sean was unable to produce a child.
When a homosexual allegation scandal arose against Sean, Seamus paid Robert Kellerman to murder all of his past lovers.[1] Seeing the strings that his father was pulling, Rachel chided Sean for not acting like a man.[2]
When Peter Draven, one of Sean's ex-lovers, broke into their home and was about to kill Sean, Peter was knocked down by Seamus. Seamus yelled at Sean to kill Peter and had Rachel enter the room to watch. Sean finally snapped and killed Seamus. As the New York City Police Department arrived and asked questions, Rachel covered for her husband and said a different man broke in and killed Seamus.[3]

Appearances, Images, and Quotes Edit
ReferencesEdit
Community content is available under
CC-BY-SA
unless otherwise noted.