Raenius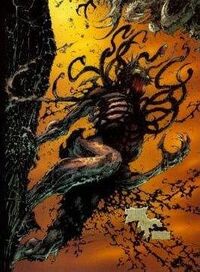 Relatives
Zeus (brother), Gods of Olympus (siblings)
Characteristics
Origin
2,000 years before Christ, Raenius was the offspring of Cronus and a mortal woman named Ariena. When the prophecy fortold of one of his children becoming his undoing, Cronus swallowed all of his children. However, Raenius was tucked away to the island of Centaurs where he was raised.[1]
He eventually rose from a new place called Hell. He met his lover, Medusa, who convinced him to revolt against the Gods by telling him that Zeus murdered his mortal mother. She dethroned Zeus and became the supreme ruler of Olympus.
Character Powers and Equipment
Powers and AbilitiesEdit
Powers
Appearances, Images, and Quotes Edit
ReferencesEdit
Community content is available under
CC-BY-SA
unless otherwise noted.