Rafael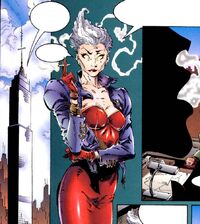 Characteristics
Origin
Rafael became the new director of Terran Affairs Headquarters when Gabrielle was arrested for committing fraudulent charges against Angela.[1]
When she ordered Phil Timper to become the new Redeemer, she had him hunt down traces of hellspawn magic. The Redeemer brought back Bobby as he had recently been resurrected by Spawn and brought him back to Terran Affairs Headquarters for research.
When Spawn attacked the headquarters to retrieve his friend Rafael had Redeemer challenge Shown again. A Necroplasm bomb destroyed half of the building infuriating Rafael as Spawn escaped. Rafael began rebuilding the building and increased her hated for the hellspawn.[2]
Character Powers and Equipment
Powers and AbilitiesEdit
Powers
Appearances, Images, and Quotes Edit
ReferencesEdit
Community content is available under
CC-BY-SA
unless otherwise noted.