Ray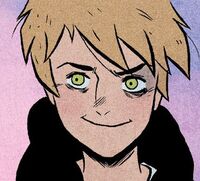 Characteristics
Status
Origin
Ray is an adventurous child who's father is a drunk. He frequently has to wake his dad up for school due to his father's irresponsible nature.[1]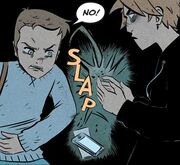 One day, he stumbled upon the body of Plutona, Metro City's greatest superhero. He, along with his friends, decided to bury her and keep the death a secret to keep the town safe.[2]
The next day, Ray and Mie waited for the others and bonded. When Diane showed up, Ray picked on her for a bit before Mie finally stuck up for her friend. They arrived at the site where they left Plutona and her body was missing. After searching for a while, they returned home unable to find what happened to her body.[3]
Teddy became sick and stayed home from school for several days. When he returned, he was agitated more than usual and even pushed back on Ray when Ray teased him. Later, Ray was ordered to take the trash out at his home by his father He spotted Teddy walking towards the woods at night where they had originally found Plutona's body. Ray called Mie and asked her to join him. Mie and Ray investigated Teddy's strange behavior and stumbled upon their secret in the forest, Teddy and Mike knew where Plutona's body was located and were cutting her to exchange blood in hopes to absorb her powers. When things became physical, Ray pushed Teddy and Teddy fell over and stabbed himself in the stomach with the knife they were using.[4]
Character Powers and Equipment
Powers and AbilitiesEdit
Powers
None
Appearances, Images, and Quotes Edit
ReferencesEdit
Community content is available under
CC-BY-SA
unless otherwise noted.