Raymond Kulolo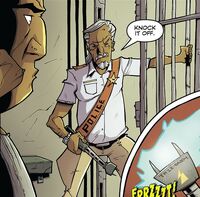 Base Of Operations
Yamapalu
Characteristics
Status
Origin
Raymond Kulolo was the chief of police for Yamapalu police force. He experience a lot of downtime due to Yamapalu's peaceful nature but was on the search for a famous chicken-ring fighter named Poyo.[1]
Upon it's discovery and location being found by Tony Chu, he hijacked the bird and headed to the US to enter the chicken into fights. He was ultimately beaten half-to-death for Poyo at a fight one night.[2]
Kulolo was later discovered to be imprisoned in the FDA Supermax Food Prison where he met Mason Savoy. Kulolo explained the ins and outs of the prison to Mason and rode his coattails on Mason's escape plan.[3]

Appearances, Images, and Quotes Edit
ReferencesEdit
Community content is available under
CC-BY-SA
unless otherwise noted.