Rayne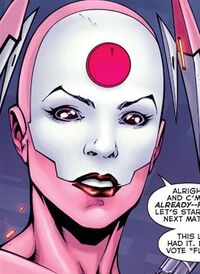 Base Of Operations
Axcend Game
Characteristics
Origin
Rain is an international pop-star. She secretly loves playing video games and bosses around her employees. However, she is frequently taken advantage of as a fame symbol and has no one she really connects with as a friend.
One day, A.I. Dog invited Rain, Eric Morn, and Ruin to be the three beta testers in a new virtual reality experience. She didn't go easy on Eric and quickly beat him at every game mode they played together.[1]
In real life, Rain began popping drugs and hallucinating. She eventually begin to see Dog talking to her and pulled him out of the TV into the real world. He warned her that the Axcend Beta has gone wrong and the real world was being infiltrated by Beta testers. They quickly tracked down Eric and forced him to transform. When they learned he wasn't Ruin, they asked him to team up with them as Ruin was potentially becoming mentally unstable.[2]
Character Powers and Equipment
Powers and AbilitiesEdit
Weaknesses
Appearances, Images, and Quotes Edit
ReferencesEdit
Community content is available under
CC-BY-SA
unless otherwise noted.