Rebecca Dell
Characteristics
Status
Origin
Rebecca Dell is the co-creator and main researcher of the Pillar project. While working late nights, she became the mistress of Grant McKay, a research scientists who helped build the Pillar.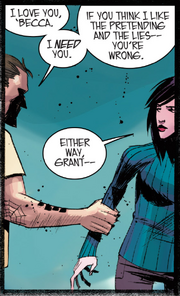 Rebecca's twin brother, Jake, died in a well when they were on a camping trip by falling into a well. Rebecca blamed herself for his death.[1] Rebecca began pulling the strings to get Grant hired into Pillar Project. She wanted Grant to build the Pillar so she could see her younger brother again.[2]
During a jump to the fifth dimension, 2nd Dimension Sara McKay called her out to have ulterior motives.[3] The Shaman decided nothing good would come of the Pillar and decided to smash it. Rebecca pulled out her pistol and blew his head off, killing him, before he could harm the machine.[4] The group was shocked at her actions but rushed to fix the Pillar before its next jump. Shawn discovered that Rebecca had programmed in the wrong dimension and Rebecca knocked Shawn out as well. Pia reported that Shawn died from the blow and Rebecca broke down in tears. She admitted that she wanted to return to an alternate dimension where she could save her twin brother, Jake, from dying. When Kadir and Grant both reappeared, they attacked each other thinking Kadir had harmed Shawn. Rebecca revealed it was her that it was her fault for what had happened to Shawn as the pillar makes its final jump.[5]
Godworld Dimension
Rebecca pestered Grant for things he didn't have on Godworld. She made passes at him and was turned down.[6]
Character Powers and Equipment
Powers and AbilitiesEdit
Abilities
Appearances, Images, and Quotes Edit
ReferencesEdit
Community content is available under
CC-BY-SA
unless otherwise noted.