Red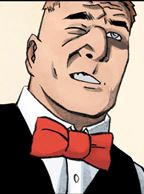 Characteristics
Status
Origin
Red is an ex-secret ops agent. When he was caught by Vivek Headland, he was given a choice - work for him or be killed. Vivek recognized his skills and has since used him as his right hand man and butler.[1]
One day, Red and Vivek were approached by the wealthy John Van Der Zee. He had a picture of his wife where he was visited nightly by her ghost. However, when the picture was stolen, his ghost wife stopped visiting as well. He wanted Vivek to investigate. However, when Vivek had a sandwhich while meeting with him, he interrupted and left abruptly. He headed to a deli where they arrested the manager.[1] Red was confused as to what was going on. He followed Vivek as they went to Van Der Zee's home and investigated the electromagnetic spectrum. Vivek realized a ghost was having sex with Van Der Zee nightly. He then uncovered a computer where he saw the Injection was potentially infecting the computer.[2]

Appearances, Images, and Quotes Edit
ReferencesEdit
Community content is available under
CC-BY-SA
unless otherwise noted.