m

 

(7 intermediate revisions by 3 users not shown)
Line 1:
Line 1:
 

{{Character Template

 

{{Character Template

−

| Image = [[File:Blue_Bolt_01.jpg|thumb|165px]]

+

| Image = Blue_Bolt_01.jpg

−

| RealName = Richard Conrad

+

| RealName = Richard Conrad

 

| CurrentAlias = Blue Bolt

 

| CurrentAlias = Blue Bolt

 

| Aliases =

 

| Aliases =

Line 26:
Line 26:
 

| PlaceOfBirth =

 

| PlaceOfBirth =

 

| Creators = Mark Millar; Wilfredo Torres

 

| Creators = Mark Millar; Wilfredo Torres

−

| First = Jupiter's Circle Vol 1 1

+

| First = Jupiter's Vol 1 1

 

| Death =

 

| Death =

 
 
Line 39:
Line 39:
 

[[File:Blue_Bolt_Kissing.jpg|thumb|left|350px]]

 

[[File:Blue_Bolt_Kissing.jpg|thumb|left|350px]]

 
 
−

FBI Director J. Edgar Hoover was at the same time attempting to bring the Union under his control, discovered Richard's secret life and attempted to blackmail Richard, threatening to ruin his life if he does not reveal his teammates' secret identities. After long deliberations with himself, Richard attempted suicide by slitting his wrists in a warm tub of water in order to save his teammates the disgrace of his sexuality. Richard was rescued by his teammate, [[Fitz (Jupiter's Legacy)|Fitz]] when he dropped by for a visit and found him in the tub still alive.

+

FBI Director J. Edgar Hoover was at the same time attempting to bring the Union under his control, discovered Richard's secret life and attempted to blackmail Richard, threatening to ruin his life if he does not reveal his teammates' secret identities. After long deliberations with himself, Richard attempted suicide by slitting his wrists in a warm tub of water in order to save his teammates the disgrace of his sexuality. Richard was rescued by his teammate, [[Fitz (Jupiter's Legacy)|Fitz]] when he dropped by for a visit and found him in the tub still alive.

 
 
 

While recuperating in the hospital, Richard stood up to Hoover's threats and decided to resign from the team in order to protect them from the vengeful federal director. However, [[Grace Sampson (Jupiter's Legacy)|Grace]] talked him into attending a meeting at Union headquarters, explaining that they all didn't care about his sexuality and that he was a part of their team. However, unknown to Richard the team had voted on whether to keep him on the team or not, with four votes in his favor and only [[Walter Sampson (Jupiter's Legacy)|Walter]] voting against him, he was allowed to remain.

 

While recuperating in the hospital, Richard stood up to Hoover's threats and decided to resign from the team in order to protect them from the vengeful federal director. However, [[Grace Sampson (Jupiter's Legacy)|Grace]] talked him into attending a meeting at Union headquarters, explaining that they all didn't care about his sexuality and that he was a part of their team. However, unknown to Richard the team had voted on whether to keep him on the team or not, with four votes in his favor and only [[Walter Sampson (Jupiter's Legacy)|Walter]] voting against him, he was allowed to remain.

Line 46:
Line 46:
 
 
 

After George secretly blackmails Hoover with evidence of Hoover's own homosexuality, Hoover drops the matter.

 

After George secretly blackmails Hoover with evidence of Hoover's own homosexuality, Hoover drops the matter.

 
+
 
+

Later, with Blue Bolt more comfortable with his homosexuality, begins to have torrid romances with many closeted gay men from that time period, many of whom are married. Among his conquests is the actor, [[Spencer Tracy (Jupiter's Legacy)|Spencer Tracy]].

 
 
 

| Powers =

 

| Powers =

⚫
 
 

* {{Superhuman Speed}}

 

* {{Superhuman Speed}}

 

* {{Superhuman Strength}}

 

* {{Superhuman Strength}}

 
+

* {{Superhuman Durability}}

 
+

* {{Superhuman Agility}}

 
+

* {{Superhuman Stamina}}

 
+

* {{Superhuman Sight}}

 
⚫
 
+

* {{Enhanced Vision}}

 
+

* {{Accelerated Healing}}

 
+

* {{Decelerated Aging}}

 
+

* {{Self-Sustenance}}

 
 
 

| Abilities =

 

| Abilities =

Line 61:
Line 71:
 

| Weapons =

 

| Weapons =

 
 
−

| Notes = Dr. Richard Conrad is gay at a time when homosexuality was illegal.

+

| Notes = Dr. Richard Conrad gay at a time when homosexuality was illegal.

 

| Trivia =

 

| Trivia =

 

| OtherMedia =

 

| OtherMedia =

Line 67:
Line 77:
 

| Links =

 

| Links =

 

}}

 

}}

−

[[Category:LGBT Characters]]

+

[[Category: Characters]]

 
+

[[Category:Flight]]

 
+

[[Category:Superhuman Speed]]

 
+

[[Category:Superhuman Strength]]

 
+

[[Category:Superhuman Durability]]

 
+

[[Category:Superhuman Agility]]

 
+

[[Category:Superhuman Stamina]]

 
+

[[Category:Enhanced Vision]]

 
+

[[Category:Decelerated Aging]]
---
Latest revision as of 21:18, 8 March 2017
Blue Bolt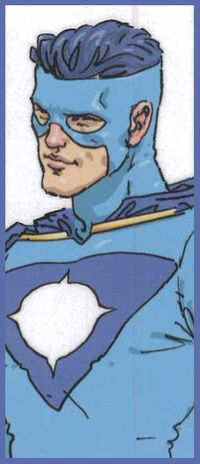 Real Name
Dr. Richard Conrad
Base Of Operations
Los Angeles
Characteristics
Status
Occupation
Medical Doctor
Education
Advanced Medical Degree
Origin
Dr. Richard Conrad was one of the six founding members of the Union of Justice. He is a neonatal surgeon at Los Angeles' St. Thomas Presbyterian Hospital, and his family features pro minently in San Francisco politics.
Richard also has connections in the Hollywood entertainment scene, and he is a closeted homosexual who patronizes male prostitutes. One of Richard's friends is a well known actress, Katharine Hepburn, who believed that regardless of the lavender marriages in Hollywood during that time, Richard, by virtue of risking his life for others every day, should not have to hide his homosexuality.

FBI Director J. Edgar Hoover was at the same time attempting to bring the Union under his control, discovered Richard's secret life and attempted to blackmail Richard, threatening to ruin his life if he does not reveal his teammates' secret identities. After long deliberations with himself, Richard attempted suicide by slitting his wrists in a warm tub of water in order to save his teammates the disgrace of his sexuality. Richard was rescued by his teammate, Fitz when he dropped by for a visit and found him in the tub still alive.
While recuperating in the hospital, Richard stood up to Hoover's threats and decided to resign from the team in order to protect them from the vengeful federal director. However, Grace talked him into attending a meeting at Union headquarters, explaining that they all didn't care about his sexuality and that he was a part of their team. However, unknown to Richard the team had voted on whether to keep him on the team or not, with four votes in his favor and only Walter voting against him, he was allowed to remain.
After George secretly blackmails Hoover with evidence of Hoover's own homosexuality, Hoover drops the matter.
Later, with Blue Bolt more comfortable with his homosexuality, begins to have torrid romances with many closeted gay men from that time period, many of whom are married. Among his conquests is the actor, Spencer Tracy.
Character Powers and Equipment
Powers and AbilitiesEdit
Powers
Weaknesses
Handsome muscular, young men

ParaphernaliaEdit
Equipment
Blue Bolt's Power Rod, which is a devise of his own design that could project energy as a weapon.
Appearances, Images, and Quotes Edit
Quotations by or about Richard Conrad (Jupiter's Legacy)
Dr. Richard Conrad was an active gay man at a time when homosexuality was illegal.

ReferencesEdit